History
8th century BC - In the Odyssey the body of the siren Parthenope washes ashore here after throwing herself in the sea because she fails to seduce Ulysses.
7th century BC - First encampments when the Euboean Greek colony of Cumae was founded some 20km to the west
5th century BC - Byzantine monks build the monastery dedicated to San Salvatore, today only the dinning hall remains
1st century BC - Villa of Lucius Licinius Lucullus is constructed, with grand gardens and buildings and water works, was considered one of the greatest pleasure grounds of its time.
12th century - The first fortifications are built here by the Normans in their traditional style, on top of the Roman buildings.
1499 - Alfonso of Aragon, first husband of Lucrezia Borgia, is King of Naples and develops the castles fortifications.
1503 - King Louis XII of France occupies the castle but transfers it in the same year to the Spanish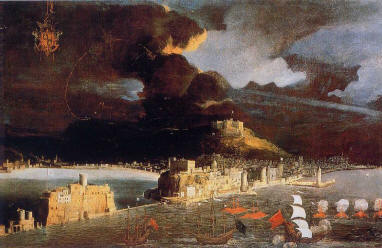 16th Century - The local painter Didier Barra uses oils to create images of the Castle, and of Naples from the Castle also. See them today in the Certosa di San Martino, or National Museum of Naples. website
1971 - Ethno-Prehistory Museum is opened