Other Historic Castles of Naples
Our Castel dell'Ovo may be the most important and oldest historic castle of the city, but it isn't the only one. Naples is a city with roots in antiquity and there are several other important castles to view.
Castel Nuovo - Also called Maschio Angioino this "new" castle dates from 1279 and features an impressive triumphal arch at the entrance. Almost two kilometers along the coast, behind the Royal Palce and overlooking the modern Marattin Stazion or cruise terminal. Still used as government offices today as it has been since the 13th century there is also a museum of paintings and free entry into some parts of the castle.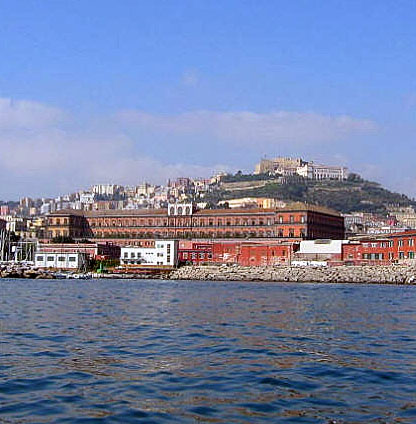 Royal Palace of Naples - Situated overlooking the Piazza del Plebiscito this historic structure is as much castle as palace. With impressive gardens and wonderful displays of art inside it is a must see while in the city. See how the Kings of Naples lived with the displays of original furniture, tapestries, paintings and sculptures. Visit the Royal Chapel or the National LIbrary all within the building.

Castel Sant'Elmo - Sited high up above the city with commanding views this traditional fortress has been build and rebuilt many times. The structures you see today date mostly from the 16th century but the oldest dates for a site here are from 1275. You an see the Castel Sant'Elmo from Castel dell'Ovo and visa versa. The interior of the castle is mostly still used as government offices and is not open to the public. But your 5 euro entrance ticket allows access to the grounds and the viewing platform on the roof from which you can see all of the city. website
And of course there are many other attractions in Naples.